October 26th, 2018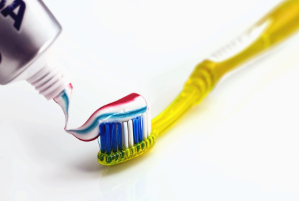 All toothpastes are not created equal. With that in mind, how is someone supposed to decide from the hundreds of toothpastes available? Your friendly dentists at Delaware Periodontics have several suggestions to help you navigate the many choices and select the right option for your teeth and dental needs. Stop by our offices in Wilmington and Dover, DE to learn more about which toothpaste is right for you!
Toothpaste and Dental Health
Toothpaste plays a pivotal part in your dental health. In general, toothpaste helps by removing bacteria and plaque while you brush. As a result, using toothpaste helps prevent gum disease, tooth decay, and bad breath. Toothpaste can also be an important source of fluoride, which is known for its cavity-fighting abilities. The American Dental Association (ADA) states that using fluoride toothpaste to brush twice a day is one of the fundamentals of oral hygiene and health.
Some Picking Pointers
Navigating the your store's dental care aisle, littered with every toothpaste option imaginable, can be daunting. Our experts at Delaware Periodontics have a few tips to make the process easier for you:
Consider

Your

Dental Needs

Do your teeth need whitening? Do you have sensitive teeth? Hoping to prevent tartar build up? Look for toothpaste labels that tell you their specific purpose and narrow down your options!

Check The Ingredients

Again, fluoride is a powerful ingredient for fighting cavities and strengthening tooth enamel.

Baking soda provides an effective cleaning while being gentle on the teeth. Toothpastes with baking soda bases may be a good option if you have sensitive teeth.

Find An ADA Seal

Look for toothpastes with the ADA seal of acceptance. These brands meet strict standards, which means you can be assured of high-quality toothpaste.

Factor In Your Preferences

Now that you have narrowed down your options considerably, you should base your decision on your likes and dislikes. Compare the offered flavors and textures. Don't be afraid to experiment with different options until you find the toothpaste that works for you.

Consult The Toothpaste Experts

While this list is meant to make the picking process less overwhelming, don't think you need to make the choice on your own! Our dentists at Delaware Periodontics are eager and able to tell you the best toothpaste options on the market and, more importantly, for your specific dental needs.
Toothpaste is one important piece of your dental health, but it can't succeed on its own. Delaware Periodontics provides high quality dental care to keep your teeth healthy and happy. Whether you have specific needs, such as dental implants, or just need a routine checkup, call today to set up an appointment. With locations in Wilmington and Dover, Delaware Periodontics is ready to serve you and your family. We can't wait to see your smile!