August 6th, 2018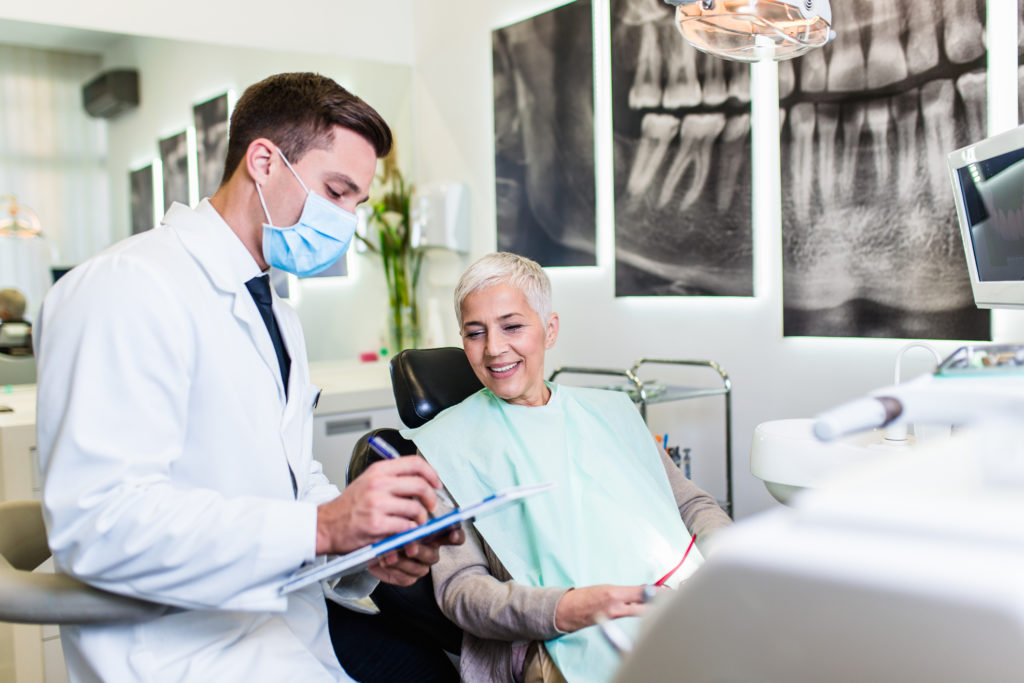 If your periodontist has recommended that you undergo dental implant surgery, you may be afraid that the process will be painful both during or after the procedure. While this is a common concern, the vast majority of most patients have stated that surgery is in no way painful and the recovery involves minimal discomfort. If you're still hesitant, we've outlined the procedure below, and you can always ask Dr. Klassman for more details if you'd like.
How Does Dental Implant Surgery Work?
The dental implant surgery process takes place over the course of several months and several visits. The first part of the process involves placing the implant into the jawbone using a screw. The screw will integrate with the jawbone via a process called osseointegration. The goal is to replace the original tooth root with an artificial one.
Once the implant is placed, the gums will be sutured using stitches. The implant will then be allowed to heal for three to six months. If necessary, your Dover periodontist will place temporary crowns so that you can eat, drink and smile in comfort.
Next, an abutment will be placed on the implant. The abutment serves as the base for your new tooth. An impression of the base will be taken and used to create your new implant. Finally, after an impression is made and the healing process complete, the implant cap will be placed, giving your smile an all-natural, finished look.
Will There Be Pain During or After the Procedure?
As with all surgical procedures, you are likely to experience some degree of discomfort during the recovery process. That said, you may experience slight bruising along the gums, pain at the implant site and minor bleeding. You may feel tenderness or swelling around the chin and cheeks and underneath the eyes. However, the pain is manageable with Ibuprofen and other over-the-counter pain meds.
You should not feel any pain during the surgery itself, as a local anesthetic is used to control the discomfort. If you are nervous about the surgery, a more intense sedative may be used.
Contact Your Local Wilmington & Dover, DE Periodontist!
Everyone responds differently to dental implant surgery, but for the most part, patients report that the procedure is relatively pain free. To learn more about the process and to determine whether or not it is right for you, call Delaware Periodontics at (302) 658-7871 or request your appointment online. We look forward to hearing from you soon!