September 30th, 2019
What Are Dental Implants Made Of?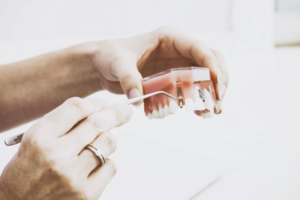 At Delaware Periodontics, our mission is to help patients throughout the Dover, Wilmington, Delaware and surrounding areas achieve beautiful, healthy smiles that last a lifetime. As a leading dental practice offering periodontal and implant dentistry to patients of all ages, we often work to reconstruct smiles that have suffered from trauma or dental disease, and one of the most effective treatments we offer for replacing damaged teeth is dental implants. Implants have quickly become one of the best options on the market for replacing teeth, and much of that has to do with their unique construction. Often, that leaves our patients wondering: what are dental implants made from?
The Construction of Dental Implants
With proper care, dental implants can last a lifetime, and they protect against erosion of the jaw bone that can occur with many other tooth replacement options like dentures. Why is that? The answer has to do with the materials used in making dental implants.
Implants are composed of three parts: the implant itself, a top part called an abutment and a dental crown that fits over that abutment. The implant itself is a screw-like post usually made of titanium, and it's the titanium that makes dental implants as effective as they are. Titanium possesses a unique property called osseointegration, which means that the implant literally fuses with surrounding bone tissue. This provides a rock-solid foundation for the replacement tooth, distributing bite pressure throughout the jaw in the same way a natural tooth would and protecting against jaw bone loss. After the titanium has had time to integrate with the bone, we'll cap the implant with a realistic-looking crown, usually made from either porcelain or a tooth-colored dental composite that's shaped and color-matched to blend in with your natural teeth. 
Schedule a Consultation for Dental Implants in Dover, DE
Dental implants are one of the most convenient, effective, and long-lasting options on the market for replacing teeth, and if you're interested in improving your smile through dental implants, our dentists and periodontists would be thrilled to help. Contact us today to learn more about implants and schedule a consultation at our Wilmington, DE dental implant center. We can't wait to hear from you, and we're excited to help you achieve a beautiful new smile!